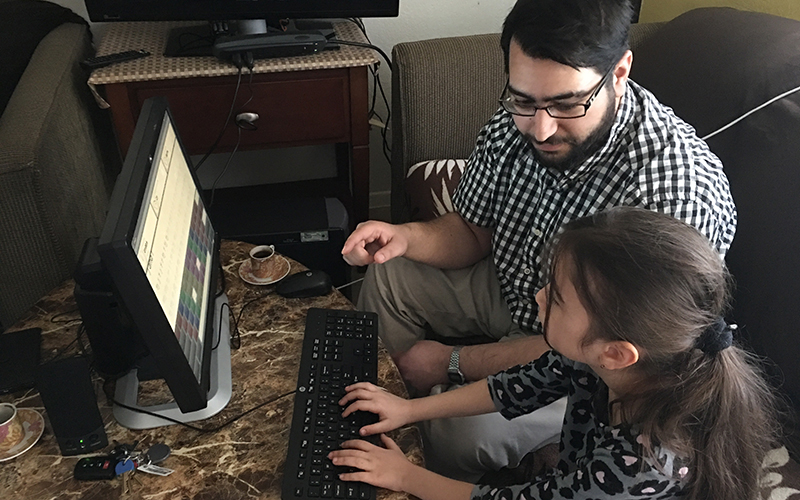 Refugees in Phoenix connect to families, assistance through free computers
Monday, Feb. 20, 2017
PHOENIX — In a dimly lit apartment off I-17, a 9-year-old Syrian girl named Aya is learning how to use her family's first computer.
She places her hands on the keyboard and presses "A" when she hears the letter pronounced through the speakers.
"Bravo!" says Riad Sbai, the founder of PCs for Refugees, the nonprofit that provided the computer to her family.
Aya's family has been in the U.S. for four months. Although she's the age of a fourth-grader, Aya has been placed in second grade because she's been in a Turkish refugee camp without a formal education since she was 5 years old.
Firas Kharma, Aya's father, looks on with a smile as Aya deftly manages an English-language learning program on the new computer.
An accountant back home in Damascus, Kharma washes cars at an airport rental facility because his English is limited. He says he hopes the language program PCs for Refugees has provided on the computer will help him find a better job.
Computers are lifelines for refugees who must navigate a litany of online paperwork related to health care, applying for jobs, and children's schoolwork. They also provide much-needed language drills and other educational opportunities, as well as a connection to family overseas.
"We will be using the computer to communicate with our family in Turkey and Germany," Kharma said through a translator. "I also want to teach my daughter Excel so she can have a better future."